Snow Update Breche de Capitello
23rd June 2018 – Snow Update
Bocca Alle Porte 2225m (Breche de Capitello)
After an amazing day out on the GR20 North, I thought it would be a good idea to share this photo. There is immense discussion and doubt about the amount of snow up there at the moment, so here it is! This photo was taken walking north towards Manganu refuge, looking back towards the breche.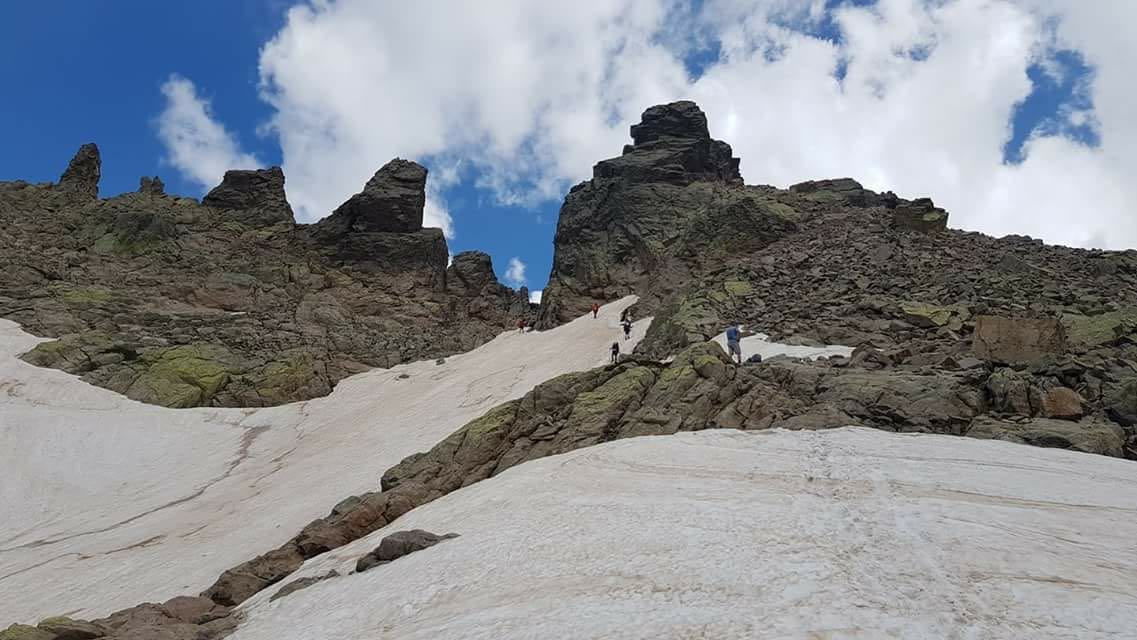 Petra Piana to Onda, you contour around a high ridge that gives views down on the two glacier lakes, Capitellu and Melo lakes. As you approach the breche, the trail involves some scrambling, at one section there is a chain to help you negotiate the short gully. There are large slabs and boulders with patches of grass. You have to go slowly and progressively, the airy height, the sound of the mountain chuffs and the immensity of the mountain peaks is daunting.
Once up at 2200m the small gap was clearly visible, along with a large patch of snow. The terrain is steep and you have the depths of the lake beneath you. I had timed my crossing to let the warmth of the day melt and transform the snow. I was able to pick my way slowly, getting my feet well and truly wedged in, there was already a well trodden trail. Keeping my weight firmly leaning inn, using my two sticks and taking my time, the walk towards the breche was manageable.
From the rocky gap, the view down the other side was astounding. It looked incredibly steep and ominously difficult. I could see a tiny lake off to the left that I would head for. Beneath the snow line, there were cascades of water everywhere, spongy grass and scrubby alder bushes. I took my time and hugged the rock side as much as I could. From time to time, I found my foot would give way and I would be thigh high in snow, especially in the softer melting snow surrounding big boulders.
If you are going through this week, wear strong footwear, take two walking sticks, don't carry an excessively heavy backpack. Keep an eye out for people above and behind you and make sure you get the weather report before setting out.