Join the departure of the GR20 : train, plane, bus, ferry or taxi
Join the departure of the GR20 : train, plane, bus, ferry or taxi
Calenzana village in the (North) of the island and Conca in the South are the start and finish points of the trail. Vizzavona, is the mid way point and easily accesible if you want to walk one half of the trail. It is well served by bus and train from Ajaccio and Bastia.
The start and finsih points are not next to the airports and you will need either a taxi, bus, or train, to take you closer. A great English website that is kept up to date with public transport services is Corsica Bus Org
Every year the flight situation from the uk improves and we have listed the complete service offered for 2018. Prices shoot up, so it's worth getting in early. You might want to consider arriving in the North of the island and leaving from Ajaccio. If you are travelling outside of the period where there are direct flights, it's worth looking at either Nice, or Marseille to change flights. Air Corsica offer a choice of flights per day.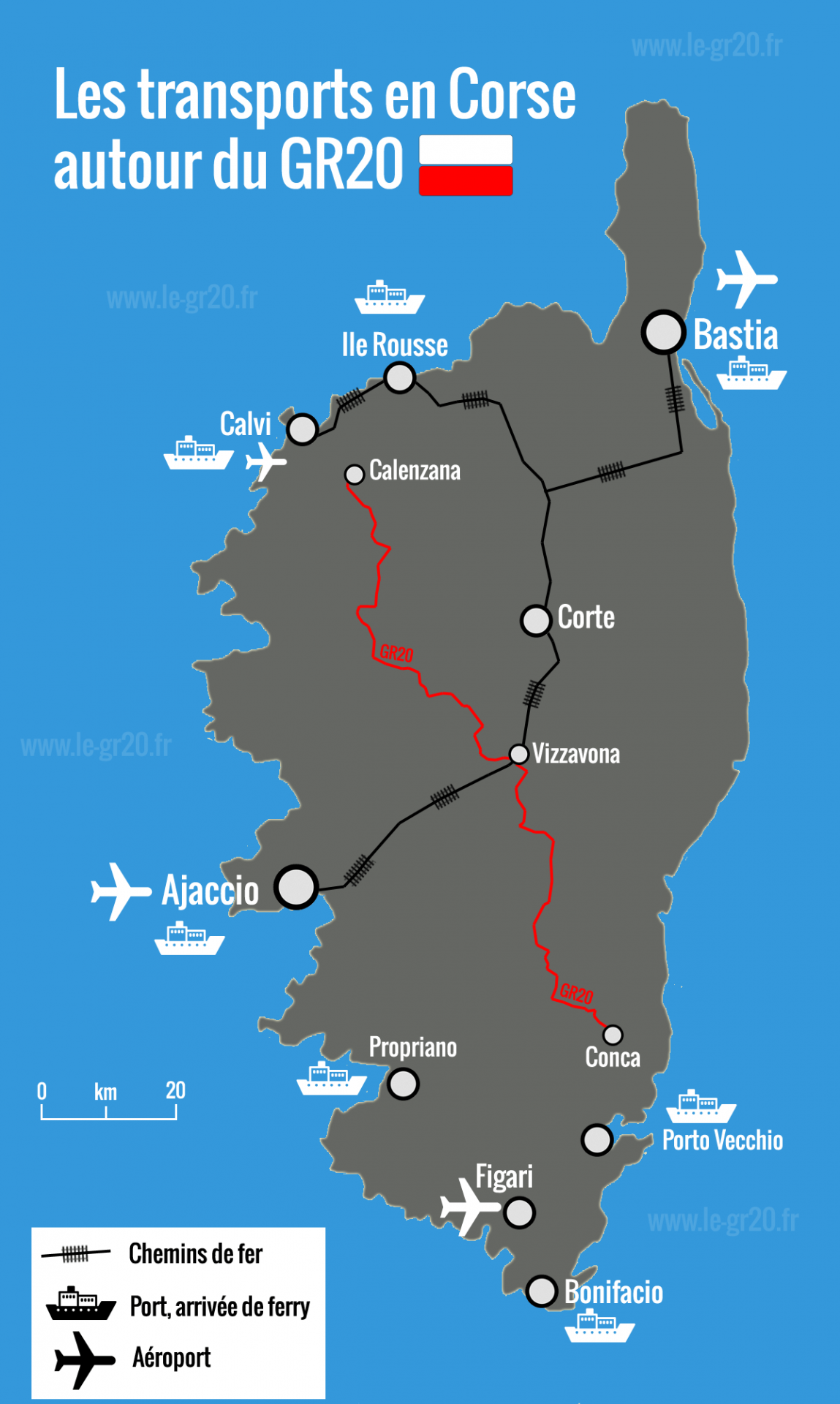 If you take the plane
There are 4 airports in Corsica. Air Corsica is the local airline.

In the North, Haute Corse:
Calvi and Bastia To the north, the closest airport to Calenzana is Calvi. With Air France or Air Corsica, you can reach Paris in 1.5 hours or Marseille and Nice in 1 hour. By landing in Calvi, you will be 13km from Calenzana, the northern starting point of the GR20.
South:
Ajaccio and Figari In southern Corsica, you will be able to land or depart from Ajaccio or Figari (between Porto-Vecchio and Bonifacio).
Figari airport is the closest to Conca (40km south). You will have no trouble finding a plane to Paris, Marseille or Nice When it comes to your plane ticket, it may be wise not to take the round trip at the same airport.
If you take the GR20 in the North South direction, you could for example land in Calvi and take the plane back to Figari.
If you take the boat
It is possible to arrive in Corsica by boat by taking the ferry from Toulon, Nice or Marseille.
There is usually at least one ferry crossing per day between April and September.
The boat is a cheaper means of transport but much longer than the plane (especially if you are leaving from the North of France, you must first reach the home port). To make a Nice-Calvi you will take around 6 hours and more or less the same time to make a Toulon-Ile Rousse.
To start the GR20 in the North, the quickest way is to choose a ferry to Calvi. At the exit of the boat, you will only have 13km to reach Calenzana (village starting point of the GR20 north side).
For crossing times and reservations: Corsica Ferries, Corsica Linea, La Méridionale or MobyLines.
Trains
The very mountainous and landlocked terrain makes rail operations difficult. There are not many train lines.
However, there are trains that can take you near the GR20. The main line crosses Corsica diagonally, from Ajaccio to Bastia via Vizzavona.
It is a tourist line, between land, sea and mountains. A fork in Ponte Leccia takes you to Calvi. If you land in Ajaccio, it is therefore possible to reach Calvi by train in 4 hours.
Depending on the season, there are more or less 4 trains per day between Ajaccio and Calvi. You will only have 13km left to reach Calenzana (by taxi? By stop? By bus? This is what we will see below). Find out more about Corsica train lines and timetables.
Between Calvi and Calenzana
The train, plane or boat dropped you off in Calvi. And now ? How to reach the departure of the GR20 in Calenzana? There are approximately 13 km between Calvi and Calenzana. Depending on the time, the budget or the desire, you have several possibilities.
Take a bus
There is a bus to Calenzana. 30 minutes by bus will allow you to reach the departure of the GR20 from Calvi station. As the site providing this information is not official, we recommend that you contact the tourist office before your departure: shuttles and timetables.
Take a cab
Arriving at Calvi airport or at the train station, you will easily find taxis to take you from the GR20. The price varies depending on the craftsmen taxi, it is often a package (between 20 and 30 euros). We invite you to do your research before and why not try to contact them before. Taxis to the GR20.
Hitchhiking and walking
If you arrive the day before your departure, take the opportunity to visit Calvi and try your luck by hitchhiking. If your thumbs up allow you to stop a car, you will certainly see along the walkers' route reaching Calenzana on foot. You can stay overnight in accommodation in Calenza before hitting the trail.
Between Conca and Porto Vecchio & Figari
Conca marks the arrival (or departure) point of the GR20 in the south of Corsica.
This village is located 20km north of Porto-Vecchio and more or less 40km from Figari airport. 50 km separate Conca from Bonifacio.
Shuttles are organized from Conca to Sainte Lucie de Porto Vecchio where you will find a gîte / campsite (6km from Conca). more information.
This shuttle can also take you to Porto Vecchio (subject to being full). Buses between Porto Vecchio and Bastia (via Sainte Lucie).
From Saint Lucia, you will have bus connections to Bonifacio, Figari or Ajaccio: more info (unofficial site, check the information at the tourist office).
From the Porto Vecchio bus station, a bus can take you to Figari airport in 30 minutes. Check schedules.