Alt 1270m. This is the second refuge on the GR20 north. There are 36 places inside and a small rocky campsite area behind the refuge amongst the shrubs. You can reserve on line with the website: http://pnr-resa.corsica.
The guardian sells breakfasts, hot evening meals, snacks and drinks. There are a couple of cold showers and toilets. There is a fresh water spring close to the refuge.
The refuge is within walking distance of some attractive sun baked rocks and swimming pools, with a famous swing bridge called the Spasimata. You can walk to Carrozzu on the GR20 from Ortu, or by a lead in variant trail from the Auberge de Bonifatu. The refuge is surrounded by high soaring granite cliffs. The sunset on the nearby coastline is not to be missed.
More informations : eat on the GR20.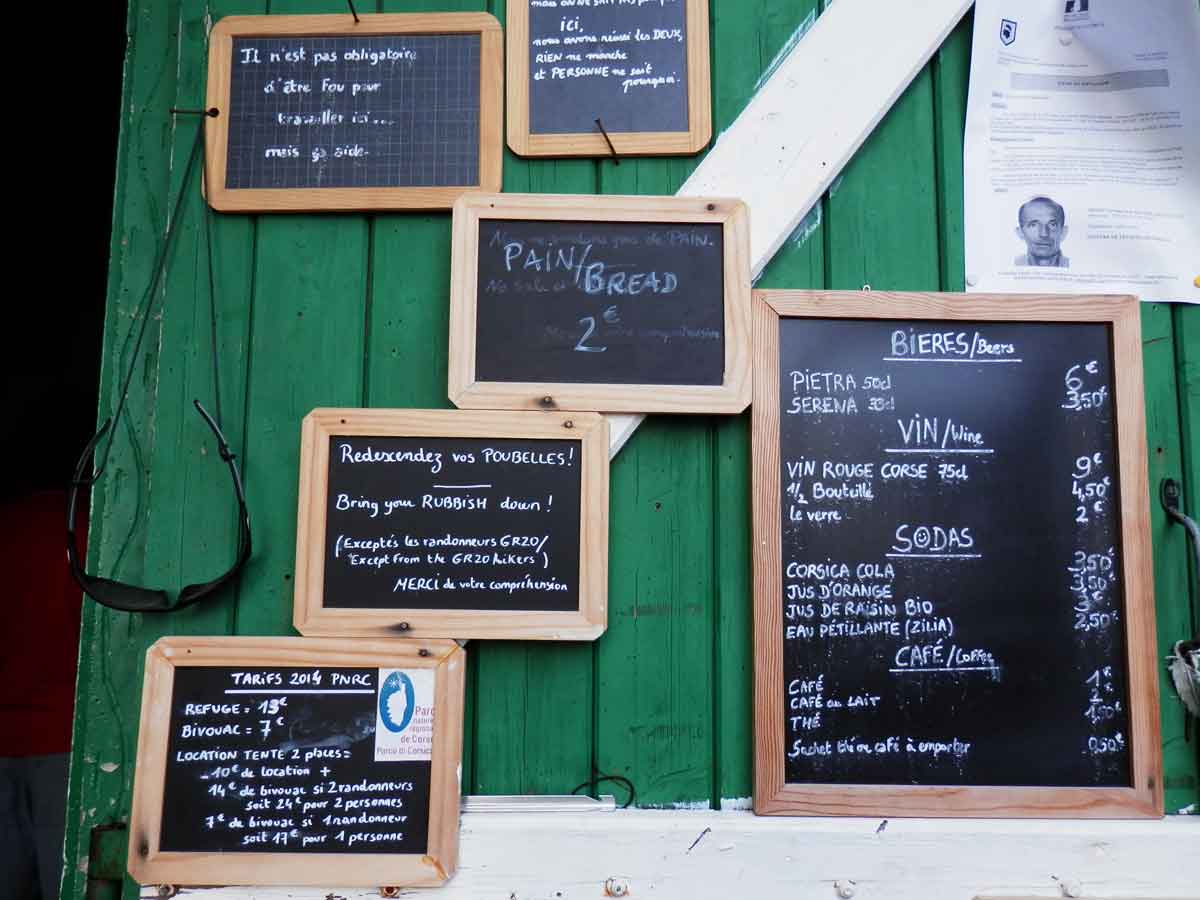 Foodies will recognize the smell of the mint omelet prepared by the warden, and moviegoers will recognize the location of a cult film scene. I do not spoil the surprise hiker friends! If you do not have the chance to have a bite to eat on the terrace which overlooks the void, you can still enjoy the view of the mountains which surround the refuge and allow the sea to be seen in the background (Calvi). From this refuge, via the GR20, you can reach the Ortu di U Piobbu refuge and the Asco station.
Opening of the refuge
The refuge is open all year round. However, like all the other shelters, they are only kept from May / June until September / October. As the opening and closing dates are not defined in advance, you must inquire on the PNRC website for exact information.
Book a night
Reservations are made online, directly on the PNRC (Regional Natural Park of Corsica) website. You will need to take the booking confirmation with you to present it to the caretaker when you arrive at the refuge. Consult the schedule then book online according to the availability calendar: book one night. For more information on nights in shelters, contact the PNRC.